ELBOW WRIST & HAND PAIN RELIEF
WHY OUR ELBOWS, WRISTS, AND HANDS ARE IMPORTANT
When you think about it, we use our elbows, wrists, and hands for many things during the day for just normal activities. We use our elbows, wrists, and hands for driving, preparing food, dressing and much more. As a matter of fact, we rely on these upper extremities for daily living. If you're experiencing pain in your elbows, wrists or hands, your daily function can become very limited.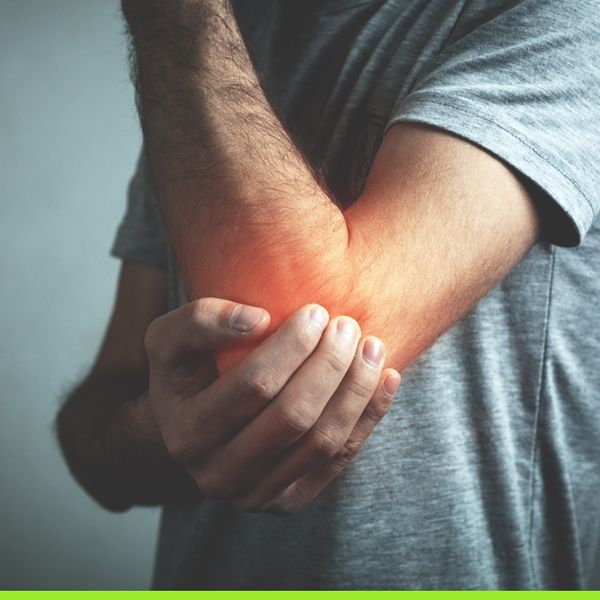 CAUSES OF ELBOW, WRIST AND HAND PAIN
There are a number of causes for wrist and hand pain, including carpal tunnel syndrome. Carpal tunnel is a type of hand nerve entrapment. It occurs in the wrists where a nerve and tendons extend from the forearm to the hand. Carpal tunnel causes pressure on the median nerve. Its symptoms include:
Pain, burning, and numbness in the hand
Pain in the wrist, which can extend to the elbow
Swollen hand
Weakened grip and problems with lifting small items
Cubital tunnel syndrome is a narrowing of the tissue in the elbow, which is comprised of the ulnar nerve. This nerve runs from the shoulder to the wrist. Its symptoms include:
Tingling and numbness in the ring and pinky fingers
Weakness in the hands
Pain in the hands and fingers
Elbow pain is often caused by overuse from sports and repetitive job tasks. Other common causes of elbow include are bursitis, dislocated elbow, golfer's elbow, osteoarthritis, sprains, strains, arthritis, and tendinitis.
Bursitis occurs when the small, fluid-filled sacs become inflamed. It's the sacs that cushion the muscles, tendons, and bones near the joints. It's a painful condition. Osteoarthritis affects about 27 million people in America. It can affect the joints in the elbows, wrists, and hands. The cartilage begins to wear away and bones rub against each other leading to pain when you have osteoarthritis. Osteoarthritis is also referred to as degenerative arthritis. Tendonitis is a swelling of a tendon. A tendon is a thick fibrous cord that connects muscle to bone. It's most common in the elbows and wrists. Other names for tendonitis are tennis elbow, golfer's elbow, swimmer shoulder and pitcher's shoulder.
PHYSICAL THERAPY FOR ELBOW, WRIST AND HAND PAIN
Physical therapy is effective for elbow, wrist and hand pain. As a matter of fact, it can help you avoid surgery. Often, a physical therapist will work in conjunction with your primary care doctor to identify the root cause of your pain. Strength and flexibility will also be assessed. After a full evaluation, a physical therapist will use therapeutic techniques to eliminate the pain. After that, the focus will be on building your range of motion. Exercises for strength will also be performed. Passive treatments may include ice therapy, heat therapy, massage therapy or electrical stimulation. The goal is to rid you of pain and improve function.
If you're suffering from elbow, wrist or hand pain, contact us at Mesa, AZ center. Our physical therapists are committed to helping you live a pain-free life.
I found Courtney and the cupping offered was just what I needed! It felt like an almost instantaneous fix. He helped me learn stretches and exercises to strengthen my shoulders for long-term results. My tendinitis has gotten a lot better but I still go in for cupping before meets or during heavy training. It keeps my muscles loose and keeps them from straining or tearing. All in all, Courtney has helped me out a lot in my athletic career.
– Jacob S.
I was refereed to PR Lab by a friend. I came here on two different occasions to seek treatment 1) grade 2 lateral sprained ankle and 2) lower back strain muscle. Dr. Courtney Warren and Wendy were very thought with the treatment for both of these injuries. I was able to make a fast recovery and go back to my regular activities due to dry needling and cupping therapy. I highly recommend this place to anyone who seeks physical therapy or overall treatment for range of motion.
- Melissa S.