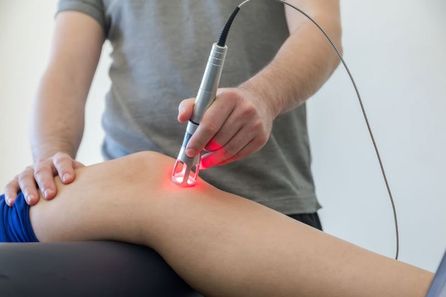 WHAT IS HIGH POWER LASER THERAPY?
Laser therapy is a light source treatment using a specific wavelength of light that can penetrate through the skin. The laser probe emits a concentrated beam of light radiation that is transmitted into the body and interacts with the tissue at a cellular level, helping to influence the development of adenosine triphosphate (ATP).
The light energy, when absorbed by the cells, is transformed into biochemical energy that stimulates cell metabolism and local blood circulation.
EFFECTS OF LASER THERAPY ON THE BODY
Laser therapy helps to:
Temporarily increase local blood circulation
Temporarily relieve minor muscle and joint aches
Ease minor pain and stiffness associated with arthritis
Relax muscles
Ease muscle spasms
BENEFITS OF LASER THERAPY
Precise and targeted application
Deep tissues can be reached
Non-invasive and no known significant adverse effects
Treat large areas
Results in fewer needed treatments
Alternative to medication
I found Courtney and the cupping offered was just what I needed! It felt like an almost instantaneous fix. He helped me learn stretches and exercises to strengthen my shoulders for long-term results. My tendinitis has gotten a lot better but I still go in for cupping before meets or during heavy training. It keeps my muscles loose and keeps them from straining or tearing. All in all, Courtney has helped me out a lot in my athletic career.
– Jacob S.
I was refereed to PR Lab by a friend. I came here on two different occasions to seek treatment 1) grade 2 lateral sprained ankle and 2) lower back strain muscle. Dr. Courtney Warren and Wendy were very thought with the treatment for both of these injuries. I was able to make a fast recovery and go back to my regular activities due to dry needling and cupping therapy. I highly recommend this place to anyone who seeks physical therapy or overall treatment for range of motion.
- Melissa S.