If you've ever suffered from a shoulder injury, you know how painful and debilitating it can be. Even simple everyday tasks such as pushing, pulling and reaching can take a toll on your shoulders. It's important to contact a physical therapist if you're suffering from shoulder pain. Call us today to set up an appointment to see one of our physical therapists. Get the best shoulder pain relief treatment.
Not only can the pain hinder your ability to perform daily activities, but it may be a sign that you have a deeper injury. A physical therapist can evaluate your shoulder and create a treatment plan for your specific condition. Getting the right treatment as quickly as possible is necessary to maintain maximum mobility.
WHAT IS SHOULDER PAIN?
The National Institutes of Health states that there are several different types of shoulder conditions that can cause pain:
Frozen Shoulder – This condition includes stiffness and pain in the shoulder joint. A frozen shoulder will often go through a variety of stages that may occur over several years. You will likely feel achy, dull pain when suffering from a frozen shoulder.
Shoulder Dislocation – This occurs when the shoulder socket and the ball of the arm separate. A traumatic event such as an accident or a fall can cause this condition. You would likely feel immediate pain and would have difficulty moving your arm.
Rotator Cuff Injury – The rotator cuff in your shoulder is made of tendons and muscles. Bursitis, tendonitis, and tears can all occur in this particular area.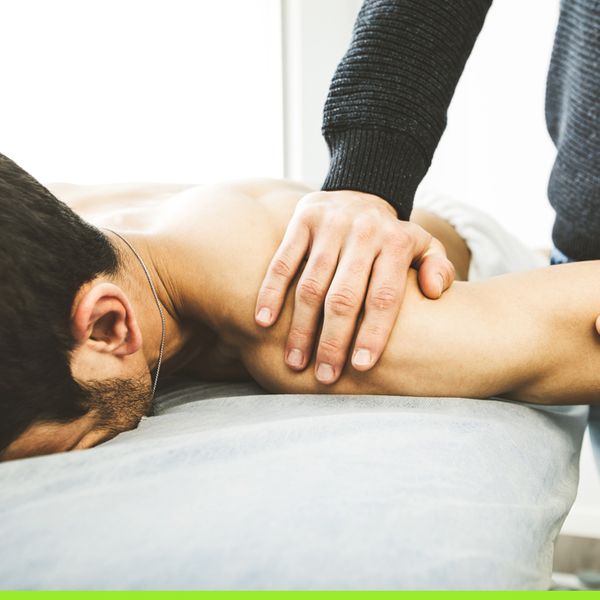 CAUSES OF SHOULDER PAIN
There are several reasons why you could experience an injury or pain in your shoulders. According to the Mayo Clinic, risk factors for frozen shoulder include having diabetes and having your shoulder immobilized for long periods, such as after a fracture.
Rotator cuff injuries occur most frequently in individuals who move their arms in overhead motions. These repetitive motions are often performed on the job or during sports activities. Sometimes, however, rotator cuff injuries are the result of a single incident.
A dislocated shoulder is when the arm bone actually pops out of the socket in the shoulder blade. This condition is often the result of a fall, a traumatic accident or a sports injury.
HOW PHYSICAL THERAPY CAN HELP SHOULDER PAIN
If you're experiencing pain or injury in your shoulders, a physical therapist can evaluate your range of motion and functional abilities. The physical therapist would then put together an individualized treatment plan to relieve pain and restore mobility. Other goals would include reducing inflammation, decreasing muscle spasms and increasing the healing process. There are several methods a PT could use during treatment:
Strengthening and stretching exercises
Heat or ice treatments
Ultrasound
Electrical stimulation
Many people can recover from various types of shoulder conditions without having surgery. Physical therapy can play a major role in your recovery without having to use invasive methods. Even if surgery is required, physical therapy can help you both before and after to improve healing time and increase your range of motion.
Our physical therapy team has the experience and expertise to help you heal from a variety of shoulder conditions. They work to reduce pain, increase mobility and help you resume your regular activities as quickly as possible. Whether it's a rotator cuff injury, a dislocated shoulder or any other type of shoulder injury, a physical therapist can help you improve mobility and get you back to participating in your daily activities. Get shoulder pain relief with the help of physical therapy. Contact us at Mesa, AZ center. You don't have to live with ongoing shoulder pain!
I found Courtney and the cupping offered was just what I needed! It felt like an almost instantaneous fix. He helped me learn stretches and exercises to strengthen my shoulders for long-term results. My tendinitis has gotten a lot better but I still go in for cupping before meets or during heavy training. It keeps my muscles loose and keeps them from straining or tearing. All in all, Courtney has helped me out a lot in my athletic career.
– Jacob S.
I was refereed to PR Lab by a friend. I came here on two different occasions to seek treatment 1) grade 2 lateral sprained ankle and 2) lower back strain muscle. Dr. Courtney Warren and Wendy were very thought with the treatment for both of these injuries. I was able to make a fast recovery and go back to my regular activities due to dry needling and cupping therapy. I highly recommend this place to anyone who seeks physical therapy or overall treatment for range of motion.
- Melissa S.